Keisel: Back where it all began
Posted On November 5, 2015
From Nathan Oster, Greybull Standard: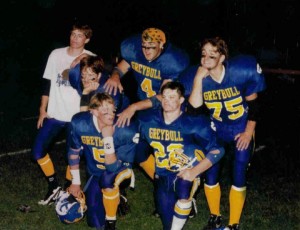 Nineteen years ago, they posed on the same field for a team photograph that appeared in the Standard.
Standing tall in the back row was Brett Keisel, wearing No. 4.
Directly in front of him, sporting the No. 5, was Michael McGuire.
A few spot their right, decked out in uniform No. 30, stood Jeff Hunt.
Close friends off the field, on it they were members of a Greybull High School football team that would advance as far as the state semifinals. A 45-22 loss in a semifinal game at Lusk ended their bid for a state title. The team finished 7-2 that year under Phil Juilliard.
Now fast forward to last Friday night.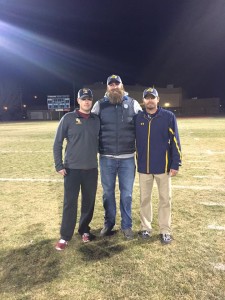 The three men were back on that same GHS field — Keisel to present a golden football to his old high school in recognition of his three appearances in the Super Bowl as a member of the Pittsburgh Steelers, McGuire as the head coach of the visiting Big Horn Rams and Hunt as an assistant coach for the Greybull Buffs.
The game? It went Greybull's way, 27-25, ending Big Horn's season and sending the Buffs into the state finals and a matchup with Wheatland. By the end of the weekend, Keisel had flown back to Pittsburgh. For a few solitary minutes on Friday night, though, long after just about everyone had left, the three men had a chance to catch up.
"We don't get to see each other often enough so it was great to see them both on the field where it all started for us," said Hunt.
Keisel referenced it as well in his comments to the crowd at halftime. As flash bulbs popped and fans roared in approval, he presented a golden football to GHS activities director Nolan Tracy and GHS Principal Ty Flock.
"What could be better than this," said Keisel, citing the big crowd and electric atmosphere of playoff football in Wyoming. "It's a great honor for me to come back, and I got a little emotional when I got here with all the memories I have. Walking out onto this football field and competing with my brothers and friends and buddies in a game that took me to places I never thought I'd g et to.
"It's incredible to me, how it all started right here."
Keisel credited both Hunt and McGuire for "making a difference" in the lives of young people.
"I couldn't be prouder," he said. "Wyoming football is alive and well."
Keisel also mentioned his two nephews, Gabe, a junior, and Zack, a freshman.
And he thanked Buff fans for their many years of support throughout his NFL career, all of which was spent in Pittsburgh.
"It meant a lot coming from Greybull, and that's why on Sunday Night Football whenever they asked where I was from, I said 'Greybull High School; Go Buffs.' This is a special place."
He ended with the presentation itself — and encouragement for all student-athletes to put their academics first. "It's all starts in the classroom," he said. "You have to take care of that if you want to take care of things on the football field and in life."
The rest of the night, Keisel's eyes like everyone else's were glued to the action on the field, which ebbed and flowed from the opening kickoff to the decisive final minute, when Big Horn was turned away on a two-point conversion that would have tied the game and likely sent it into overtime.
Afterwards, McGuire and Hunt spoke of the game and their shared experience with the Buffs.
"I don't think 19 years ago any of us could have imagined many of the things that have happened in our lives," said McGuire.
He said he enjoyed seeing Keisel, but that the night as a whole wasn't any fun because his team came up short. "We came over to win a football game and that was our only focus," he said.
McGuire did, however, credit the Buff coaching staff for the strides the program has made.
"Football has been very good to all of us and created a lot of opportunities and build a lot of friendships for us all," said McGuire.
McGuire has already won two state championships — one with Riverside, the other with Big Horn. He doesn't trace his success to his high school playing days, but rather to his time as a student manager for the UW football team.
"I always knew I wanted to coach, but always thought it would be basketball until my time at UW," he said.
Hunt spoke of their friendship, saying he talks to McGuire frequently during the season.
"We try to help each other out whenever we can in football and basketball," he said. "And we still hang out when we get an opportunity." In fact, Keisel and Hunt were members of McGuire's wedding party. "We all still get together once or twice a year. Carrie and I went to Pittsburgh last year and stayed with Brett and Sarah for a few days and got to go to a game."
Hunt said the three men don't talk much about the 1996 season. He concedes that McGuire and Keisel were better players than he was and that he knew that McGuire would go on to be a great coach.
"Not too many coaches prepare like he does and he is very difficult to make a plan for," said Hunt. "We knew coming in that we had to expect anything and everything."