It's been awesome…
Posted On March 9, 2015
"It's been awesome! I love yinz!" — Keisel.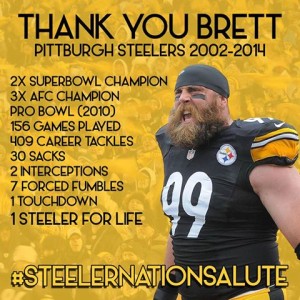 Right back at ya, Brett! It's been awesome for us too!
From Steelers GM, Kevin Colbert today:
"We have informed Brett Keisel that we plan to release him today. We have had conversations with Brett over the past couple of weeks during which we communicated our intentions to him. Brett has played a major role in our success during his 13 years in Pittsburgh. We appreciate his efforts and we are grateful for what he helped us accomplish, including two Super Bowl Championships. We will always consider him an all-time Pittsburgh Steeler."
We feel the same, Mr. Colbert. Brett will ALWAYS be a Pittsburgh Steeler!
Stay tuned….we will have much more on Brett's amazing career on and off the field with the Steelers and his community. Thank you for ALL the wonderful messages, they are greatly appreciated.
Thank you to Matthew Solo for the awesome photo! He designed Brett's Facebook banner, and many more photos.