December Hotcakes
Posted On December 14, 2014
That's a couple December hotcakes. Proud of my teammates and proud to be a STEELER! Steeler Nation took over Atlanta!
Thank you! — Brett
The Steelers headed to Atlanta to face the Falcons today, and Steeler Nation went along with them. The television announcers commented over and over how packed the stadium was with Steelers fans. We could even hear chants of "DEFENSE" during the game which hindered the Falcons offense. The game was in Atlanta, but it sure felt like a home game for the black and gold.
Way to go Steeler Nation! You helped lead your team to a win over the Falcons!
What the win means:
 The Steelers finally took care of business against an NFC South team, and at just the right time, as their first victory in Atlanta since 1996 kept them in control of their own destiny in the AFC North. If the Steelers (9-5) win their final two games — and both are at Heinz Field — they will win their division and receive no worse than a No. 4 seed in the AFC playoffs. (Scott Brown, ESPN.com).
Stat line:
William Gay set a Steelers record when he returned a third interception for a touchdown this season. Gay again lived up to the "Big-play Willie Gay" moniker, jumping a deep in-route on the first play of the second quarter and weaving his way 38 yards for a touchdown. Gay's score gave the Steelers a 13-0 lead, and it came after the Steelers had to settle for a pair of field goals despite dominating the first quarter. Gay previously returned interceptions for touchdowns this season in victories over the Colts and Titans. (Scott Brown, ESPN.com).
Ben Roethlisberger has now defeated 31 teams in the NFL. (Burt Lauten, Steelers PR).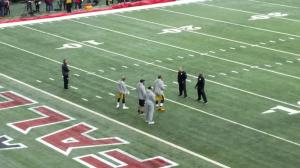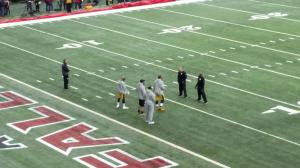 Brett traveled with the team to support his teammates. Steeler Nation was thrilled to see him on the field during pre-game warm-ups and on the sidelines cheering on his friends and teammates.
View more photos of Brett checking in with Steeler Nation HERE.