Da Beard tackles Super Bowl XLIX Media Week
Posted On January 27, 2015

Excited to team up with Head & Shoulders again as their "Official Hair Correspondent" at the Super Bowl. You down with OHC? Yeah you know me. — Da Beard
Can't wait to see what kind of hairy situations our Hair Correspondent will get into this year.- Head & Shoulders
Brett (and Da Beard) is back again as the Head & Shoulders Hair Correspondent. He had a very busy first day at SB XLIX Media Week greeting fans, providing in depth coverage and he even found time to give away some Super Bowl tickets!
Missed his appearances? No worries, we have you covered.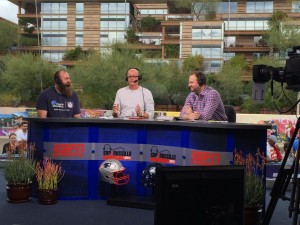 Scott Van Pelt and Ryen Russillo were glad to see their favorite long lost"cousin" again:
"Cousins gotta hug!"
Highlights:
Da Beard comments on his role with Pittsburgh, his future, what Dick LeBeau has meant to the team, NFL players' sentiments about the Patriots and Deflategate.
Brett doesn't just promote Head & Shoulders….he USES it on Da Beard daily!
Head and Shoulders keep you with a healthy scalp. There's a lot of great things about it. I use it everyday on my beard.
On Coach LeBeau:
Coach LeBeau means to much to me and I know he means so much to so many of my teammates. We are the men we are off the field because of his great influence.
Keisel's official Super Bowl pick:
Seahawks (doing the bird flap).
I just think they're rollin' now. I am a big believer in momentum… in catching that wave and riding it.
What has Brett purchased recently that made his wife mad? Listen to the interview to find out…
Listen HERE.
Yahoo Sports Primecut:
Pittsburgh Steelers defensive end Brett Keisel, joins "Primecut" to talk about how the loss of longtime defensive coordinator Dick LeBeau will affect the defense. LeBeau and the Steelers mutually parted ways following the 2014 season.
I'm so grateful that I got to be a part of Coach LeBeau's brilliance for as long as we did. — Keisel
Listen HERE.
Brett also was able to give away Super Bowl XLIX tickets: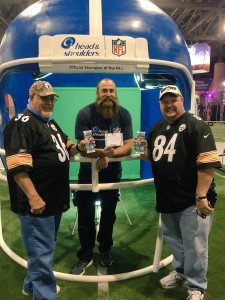 How cool! Got to give SB tickets to two Steelers fans in the #FlakeFreeZone at NFL Experience. Thanks Head & Shoulders!
Missed seeing Da Beard:
View some great photos HERE.