Camo Santa came to town….
Posted On December 5, 2018
…..landing at Children's Hospital!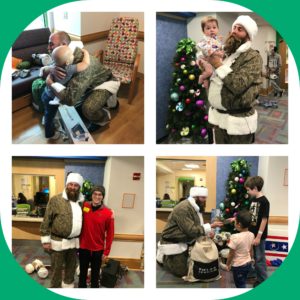 Big thanks to @FieldStreamShop for helping me get my @MossyOak Camo Santa on today at @ChildrensPgh for some great kids. Tis the season for giving. #WhereTraditionsBegin
From WTAE:
Former Pittsburgh Steelers defensive end Brett Keisel surprised a group of patients at UPMC Children's Hospital of Pittsburgh Tuesday morning while dressed as "Camo Santa."
Keisel brought an assortment of outdoor gifts and backyard games from Field & Stream. He also spent time visiting with children and their families at the hospital.
View video footage!
Thank you to Field & Stream Shop, Mossy Oak, and the amazing kids and employees at Children's Hospital of Pittsburgh!