27th Annual Steelers/Gatorade 5K
Posted On September 8, 2015
Brett and Charlie Batch were chairs for the 27th Annual Steelers/Gatorade 5K at Heinz Field this past weekend.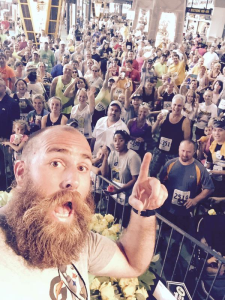 From Teresa Varley, Steelers.com:
The race is one of the main fund-raising events for the Art Rooney Scholarship Fund, carrying on the memory of the late Steelers' owner Art Rooney Sr. Three graduating seniors from North Side high schools, one from Cardinal Wuerl North Catholic and two from Perry High School through the Pittsburgh Promise, are awarded a college scholarship, helping them with the ever rising cost of education.
The race celebrated the 10th anniversary of Super Bowl XL, with Charlie Batch and Brett Keisel chairing it, and Kendall Simmons the honorary starter for the Kids' Kickoff race. But more importantly, it celebrated education. 
Race participants were thrilled to see who was waiting for them at the finish line!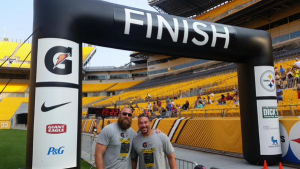 Da Beard and Da Batch!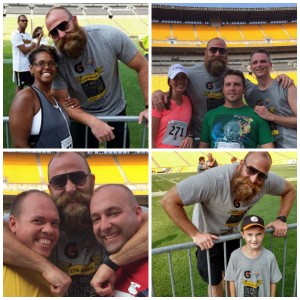 Run a race to celebrate education…and check out the reward at the end!
The best caption goes to: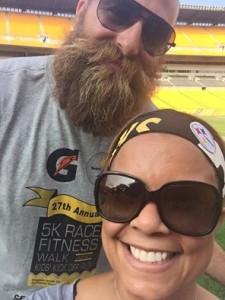 Michelle Watson: "Thanks for the selfie!!! Da' beard=light at the end of the tunnel!!"
And, how about this for celebrating your first 5K?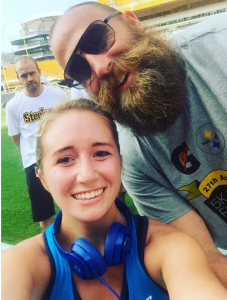 "My first 5k and I get a selfie with Brett Keisel after I crossed the finish line!!" — Laken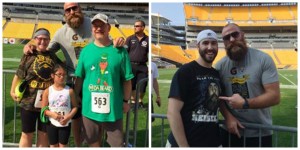 Wearing DaBeard Gear & Fear Da Beard shirts will definitely grab Da Beard's attention!
View MANY more photos HERE.
Thanks to all the race participants and to all who sent great photos!