What they're saying…
Posted On October 17, 2014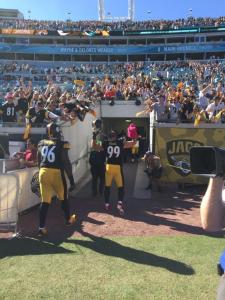 A few comments from Brett's social media pages and the media:
I honestly do not think there is any athlete in all of professional sports that does more to lift the hearts of those less fortunate than ourselves. The city of Pittsburgh and the Steelers are very fortunate to have someone who carries on the legacy of Art Rooney day in and day out.– Charles Ott, Artist, owner of Steel City Illustrations.
Although not knowing Brett personally, he just seems to be an honest sincere man; in this day and age in pro sports that's real hard to come by!! God bless you Brett!!— Christopher Buchannnan.
Thanks for all you do Brett Keisel. The quiet visits you make to Children's Hospital will never be forgotten by the children or families. You don't bring a camera crew, you don't ask for the spotlight. You simply come to just brighten the days of these angels. You will never know how much it's appreciated. Thank you 99! — Lisa E.
Please pass along a huge THANK YOU to Da Beard for doing that video message for my dad. I can't begin to express how much that meant to me. I can't wait to show it to him. Prayers up, blessings down. Thank you all for being such wonderful ambassadors of hope and kindness. — Erin Hutchings.
Thank you, thank you, thank you to Brett and the people at Da Beard Gear. The breast cancer tshirts are my favorite. I am a 2 year breast cancer survivor and am excited to get my shirt. — Linda P.
Hey Keisel, thanks for being a good dude. The time you spend with the kids at UPMC is priceless. — Nick Smith.
The power of Mojo is a funny thing. Everything looked good for the Steelers up and until Brad Wing had trouble putting the snap down. Cleveland was doing the three-and-out stuff when they came to life by running a bootleg throwback across the field to a wide- open TE . The 36-year-old Brett Keisel running Cameron down from behind was one of the best hustle plays I've ever seen. I wouldn't be surprised to see Brett someday doing an Old Spice commercial of him hunting bears with a switch. The guy has been a terrific player, leader and teammate over the years. —Craig Wolfley, from his "View from the Sidelines" column at SteelCityInsider.net.
While my fellow Cleveland Browns fans may take exception; it's my opinion that current Steeler, Brett Keisel, represents the finest attributes that exist in the NFL. Keisel is a pure, fierce competitor with compassion, honor and dignity. Shaking hands, acknowledging his temporary adversary, T.Mack, is just one more reason why the Keisel and Steelers / Browns rivalry is still one of the best in the NFL. Get and Stay well Keisel!– Andy Ferree.
 I had the honor of shaking Brett Keisel's hand at one of his many events. No, he doesn't know me and I don't know him well enough to call him over for dinner.

But the man is CLASS. All the way. Andy Ferree had it spot on: He's compassionate, honorable, and dignified. He doesn't take things for granted and, well, dagnabbit, that is nice to see in this day and age.

Brett Keisel – You make me proud.–
Casey Bailey.
About The Author
keisel_admin