ULTIMATE TAILGATE CHALLENGE
Posted On October 20, 2014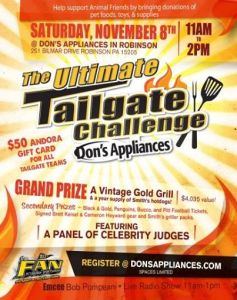 Fire up your Tailgate party! Don's Appliances in Robinson is hosting the ULTIMATE TAILGATE CHALLENGE on Saturday, November 8.
Set up your gear and put your grilling skills to the test.
Fifty dollar Andora gift card for all teams. Pens tickets, Bucs tickets, Black and Gold tickets and Smith's Hot Dogs for a year. The grand prize is a $4000 gas grill.
Of course, to show my support to my buddies at Don's Appliances, I will donate some signed items for giveaway!
Register now-space is limited.