Brett goes home…
Posted On November 1, 2015
Brett headed back to Wyoming, back to where it all started for his career…

The football field of Greybull, Wyo.
"It's great to be back in Greybull.  It seems like yesterday when I was out on that football field competing just like my nephews are doing tonight for Greybull.  I've been so fortunate to compete at the highest level with the best athletes and come out with 2 Super Bowl rings.  I think it's great the NFL is acknowledging the starting blocks for all of us who have been fortunate enough to play in the big game."  – Brett
Brett was honored to be able to present Greybull High School with the Golden Football through the NFL's Super Bowl Honor Roll High School Celebration.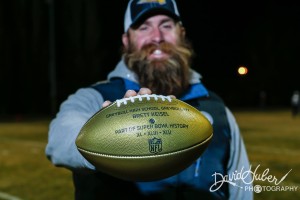 From the NFL:
As part of the nationwide kickoff to the Super Bowl 50 celebration, the NFL launched today the Super Bowl High School Honor Roll initiative recognizing schools and communities that contributed to Super Bowl history and positively impacted the game of football.
High schools across the nation, and around the world, will receive a commemorative Wilson Golden Football for every player or head coach who graduated from their school and was on an active Super Bowl roster. Nearly 3,000 players and head coaches, and more than 2,000 high schools, will be recognized. Players and coaches will also have the opportunity to personally deliver golden footballs.
Read more HERE.
Brett got the crowd going with his great speech.
He was also at the game to watch his two nephews, Gabe and Zack play in a first round playoff game against his good friend, and former Greybull teammate, Michael McGuire. Also, another good friend and former Greybull teammate, Jeff Hunt coaches for Greybull High School.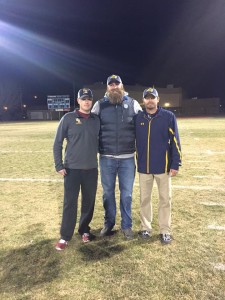 Brett with Michael McGuire and Jeff Hunt
Pretty happy to know both of these guys. The last time all three of us were on this field together was 1996. Glad I got to see them long enough to get a picture with them. Great to see you guys! – Jeff Hunt
Brett's nephews, playing for Greybull High School, got the win 27-25!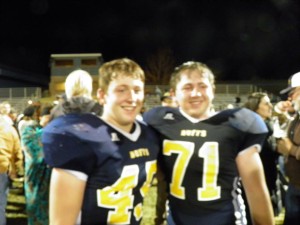 From Brett's aunt, Myrna Smith Hammer:
What a great evening back at my high school stomping grounds! It was so fun to see so much family and spend that time cheering on my grand nephews, Zack Keisel and Gabe Keisel! Watching another nephew, Brett Keisel, make a Golden Football presentation to the Greybull Football team was really cool!! Good times!
And, from his uncle, Ben Smith:
What a beautiful night for football. Perfect weather with just a little crisp in the air. It was an epic battle between two great teams. I'm sure proud of our BigHorn Rams team. Definitely overachieved this season. It was great to see so many family, friends and former coaches at Greybull and fun to watch two grandnephews battling on the gridiron. Proud of Gabe and Zack Keisel. Good luck at Wheatland! Sure was awesome to watch my nephew Brett Keisel back on his (and mine) home turf to present his NFL Super Bowl golden football to Greybull High School.
Stay tuned for many more photos! Thank you so much to Brett's great family and friends for all the wonderful photos. Also, a big thanks to David Huber Photography for graciously allowing us to use his amazing photos.
And, of course thank you to everyone at Greybull High School and the NFL for making this event possible.