The Final Cut: Shear DaBeard X
Posted On February 14, 2020
From Teresa Varley. Steelers.com:
With the final snip, the last cut, the one last shear, it was so long to a legend.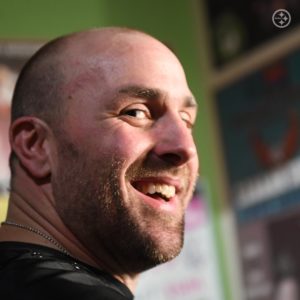 Yes folks, it's true. Brett Keisel's beard is gone. And we don't know if it will ever return in its full glory.
The beard that became famous, that had a life of its own, is done after Keisel hosted the 10th and final Shear Da Beard on Thursday night at Jergel's Rhythm Grille in the North Hills.
There was entertainment, including Canadian country music star Brett Kissel, who won two straight Male Artist of the Year and Fans' Choice awards at the Canadian Country Music Association Awards, The Ghost Hounds, a rock band with Pittsburgh roots that Thomas Tull, a member of the Steelers ownership group, started and is part of and Shear Da Beard wouldn't be what it is without Pittsburgh's own Donnie Iris on stage.
There were former teammates galore, there to show their love and support of Keisel, and getting their shot at taking a final snip.
And his family, including his wife Sarah and his three kids, were also there, ready and waiting to see the clean-shaven Keisel.
"She has been great throughout this whole thing," said Keisel of his wife. "She puts up with my bearded antics. She is a straight rock for our family and doesn't get enough credit. I am so thankful to have somebody who is my best friend and someone who loves me bearded or not."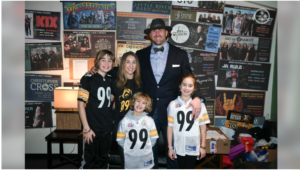 Keisel began to grow his now famous beard back in training camp in 2010 in an effort to get the Steelers back to the Super Bowl after winning Super Bowl XLIII two years prior. It worked, but only to an extent. The Steelers made it to Super Bowl XLV but lost to the Green Bay Packers.
Keisel was as disappointed as anybody after the Super Bowl loss, but he wanted to do something, wanted to end things on a positive note. So, he decided to shave off his beard, in public, for charity. What started on a whim grew into an event that lasted 10 years to benefit the cancer programs at UPMC Children's Hospital of Pittsburgh.
While he still plans on doing things to help the kids at Children's Hospital, he said that time was right to say goodbye to the beard.
"It was a harder decision than I expected making this the final one," admitted Keisel. "I thought when I was doing this, I would maybe take a break at 10 years. As I look in the mirror today it's surreal. We have been doing this and growing it and helping Children's Hospital. I think it's great to put an exclamation point on it and go out with a bang.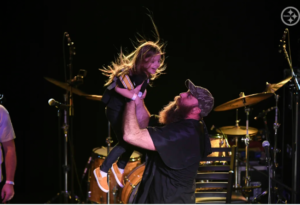 "I am always going to be involved with Children's Hospital, bearded or not. They're always going to be someone I am going to try and help and fundraise for, try and make a difference for, just because of how much they have taught me through these last 10 years. I could never repay them everything they have shown me, the strength they have shown me and the fight they have shown me."
Stay tuned for photos of Brett's friends and teammates snipping away at DaBeard!