Steeler Nation takeover in Chantilly, VA
Posted On June 5, 2015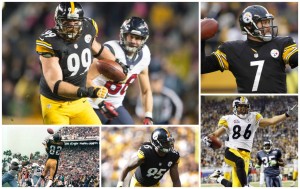 99: √
7: √
86: √
95: √
82: √
Steeler Nation: √
Summer fun: √
Are you looking for a weekend of summer fun? Well, look no further than Chantilly, VA. in July!
The Black and Gold are set to take over the  Dulles Expo Center in Chantilly, VA for the Collector's Showcase of America Summer Show on Saturday, July 11th & Sunday, July 12th!
Scheduled to sign autographs:
– Current and former Steelers Big Ben (Saturday) Rocky Bleier (Saturday), Brett Keisel (Sunday), Hines Ward (Sunday), Jarvis Jones (Saturday) and HOF'er John Stallworth (Sunday).
– Sports fans will also have the opportunity to meet and get autographs from other NFL & NHL greats of the game Dick Butkus (Saturday), Emmitt Smith (Saturday), Bo Jackson (Saturday), Marcus Allen (Saturday), Tony Dorsett (Sunday), Deion Sanders (Sunday), Dino Ciccarelli (Saturday), Mike Bossy (Saturday) and more!
You can see the full list of athletes, past & present, as well as ticket and lodging information here.
C'mon Steeler Nation, grab your black and gold gear and your cameras! Let's show Chantilly, VA. why Steeler Nation is the biggest and best nation EVER! #steelernationtakeover