Random meetings with Da Beard….and HEEAATTHH
Posted On October 25, 2016
It was the best random moment of my life! – Danielle
From Danielle McDonald: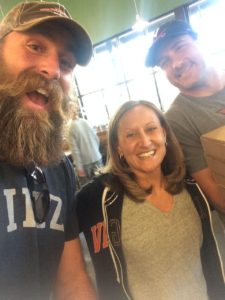 I was shopping for groceries yesterday on an ordinary afternoon. The cashier was (thankfully) slow scanning my groceries and I was looking toward the exit. I noticed two very tall gentlemen walk through the door, one with an amazing beard and a t-shirt with "Yinz" written on it. I'm originally from the Pittsburgh area, so I chuckled, looked at the tall man with the amazing beard and said, "I like your shirt!" He smiled and said thank you as the two gentlemen walked into the store.
It hit me at that very moment that I had just seen Brett Keisel and Heath Miller walk into my grocery store! I almost fell over. My two favorite Steelers of all time in the same grocery store in VA!
When they were walking out, as my cashier was still trying to scan my groceries, I gathered up enough courage to go say hello and tell them how much I love and miss them! Brett offered to take a picture of the three of us and I was so amazed by his kindness! He and Heath are just like I imagined they would be! So humble and kind. I am beyond thankful they took a moment to make a crazy fan's day! And week and year…. 🙂
I honestly didn't know what to say to them, so I just kept saying, "I love you guys, and I miss you! I love you guys so much… And I miss you!" I wanted to thank them for everything they have meant to me over the past several years and I was too tongue-tied to say anything intelligent. It was the best random moment of my life! I'm definitely wearing my Keisel jersey to the game next Sunday vs the Pats!Thanks for your reply and for having this website!