Grand Marshalls Brett & Maximus
Posted On May 11, 2015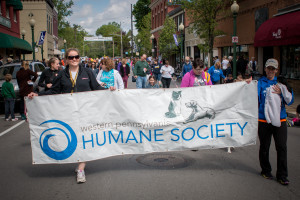 Attention Animal Lovers…
The 6th Annual Sewickley Unleashed Pet Parade is May 16. And, your Grand Marshalls will be Brett and his Golden Lab, Maximus. Brett will also be a judge for "Best in Parade".
The festival is free to attend, and you can bring your pet to walk in the parade! The cost is $5 per pet entered.  Registration will start at 9:00am at the PNC Parking Lot and will be cash only.
All proceeds support the Western PA Humane Society.  Bring your family and your pets and participate in this fun event!
From the Sewickley Unleashed website:
What better way to express your inner animal than in a pack! Get the family or your friends together and get creative! There is no additional fee for Group Registration — each pet entered is $5, but there's no charge for the group as a whole.
Prizes will be given for the following categories for both Individuals and Groups:
Grand Prize for Best in Parade: This winner will be selected from one of the winners below.
Best Float (No large motorized vehicles. Exception: remote controlled-battery operated- small )
Best Non-Canine
Most Creative Group or Family
Judging will take place between 9:45am and 10:30am in the PNC Parking Lot.
The winner of each category will receive a balloon to carry in the Parade to identify you!
The Judges:
Brett Keisel, former Pittsburgh Steeler
Pat Lamantia, returning for his 3rd year as a Sewickley Unleashed judge
More details HERE.
Please be aware, this is not an autograph signing event.