Da Beard makes a surprise visit in Seattle
Posted On November 29, 2015

From Mike Hustava, Steelers Nation Unite:
View photos from last night HERE.
Picture this. You're sitting at a bar in Seattle, surrounded by upwards of 350 Steelers fans, all decked out in black and gold. Imagine a buzz so strong that you can almost feel it in the air as you walk in. Chants of "Here We Go, Steelers" echo off the walls as you count down the hours until kickoff.
This scene was exactly what happened on Saturday night at Fado Irish Pub in Seattle, and it's not all that surprising, given the similar turnouts by Steelers Nation in road cities previously this season. After all, the Steelers are playing their first game in Seattle since 2003.
Given all of this excitement, it's no wonder the bar practically burst at the seams when Brett Keisel walked in to surprise fans, courtesy of Steelers Nation Unite. Between "Here We Go, Steelers" "Keisel! Keisel! Keisel!" and "DE-FENSE" the chanting and cheering made it feel like Heinz Field was bottled up and released inside this bar in Seattle. It was, undoubtedly, the place to be for Steelers fans in the Pacific Northwest.
Taking over the microphone with former Steeler and Washington-native Mark Bruener at his side, Keisel repeatedly called attention to how awesome Steelers fans are, and had some fun with a few Seahawks fans in attendance, recalling the outcome of Super Bowl XL. He led the cheering and got the crowd fired up like only "Da Beard" can do.
It certainly set the stage for what should be a classic matchup in Seattle on Sunday afternoon. If Saturday night was any indication, Steelers Nation will have a noticeable presence inside CenturyLink field and, as usual, will have no problem making sure everyone in the place and everyone watching sees the Terrible Towels flying as proudly as ever.
Video of Brett's arrival (courtesy of the Steelers), HERE.
Tweet of the day from Tita_Moke: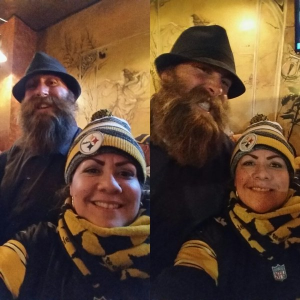 They got 12, we got a Nation!!! Thanks Keisel!
And, of course we got Da Beard!
Another good one from Mike Prisuta:
Brett Keisel made the trip to take part in Steelers Nation Unite event last night. So the Steelers have that going for them, which is nice.
Lucky family who won a signed Keisel Terrible Towel through Steelers Nation Unite. The Webb's traveled all the way from Oregon for their first Steelers game!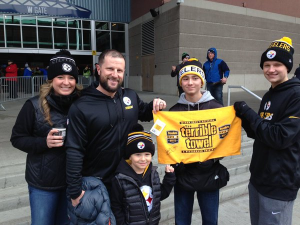 If you are not a member of Steelers Nation Unite, you are missing out on once-in-a-lifetime experiences. Join HERE.