Chattin' with 99
Posted On November 7, 2014
A group of lucky Steelers Nation Unite members had the chance to chat with Da Beard today on a conference call.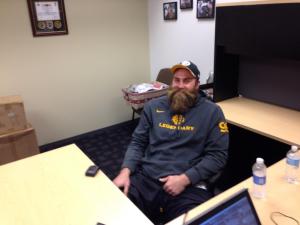 Thank you to all of our @SteelersUnite  members who participated in today's conference call with Brett Keisel and made it a fun experience!– Steelers Nation Unite.
Steelers fans were thrilled to be invited:
"Thanks Steelers Unite for giving me for giving me an opportunity to talk to and ask DE Brett Keisel a few questions!"– @jabthebarber
"Thank you so much for taking the time out of your busy schedule to sit down and answer the questions from your fans!"– Candice Green
"Thank you to Brett Keisel and Steelers Nation Unite for spending time with the fans ! The conference call was fun!" — Nicole Ciufo
"I am seriously geeking out. That was awesome. One minute I'm laying in bed doing crosswords the next I'm taking to Brett Keisel!"– @littlesthales
"On a conference call with Brett Keisel right now. He just shouted out "dahntahn"…is this real life?" –Ayla Schermer
We could only post a few comments, but thanks to the MANY who sent messages, tweets and emails to say thank you!
Miss the call? Well, Steelers Nation Unite plans to have many more amazing offers, so GET REGISTERED!
Read more on Steeler Nation Unite HERE.