Kid Reporter: Brett Keisel Q&A
Posted On February 24, 2015
You may remember Brett attending Super Bowl XLIX Media Week as the Head & Shoulders Hair Correspondent. He interviewed many players, coaches and met some great people. One of them was NFL Rush Kid Reporter, Jake Robinson.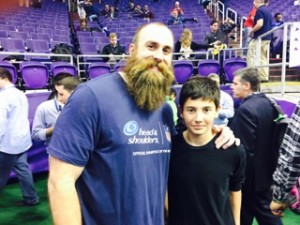 Jake recently contacted Brett to request a quick Q & A. Brett was happy to hear from Jake, and more than happy to answer his questions.
From the NFL Rush interview with Jake Robinson:
Q. You just had shoulder surgery this week, how are you feeling? When will you be back? And what are your expectations for the upcoming season?
A. Thank you, I feel great! My shoulder is healing well. I have been rehabbing and will continue to work with our trainers. I am excited about this young football team. We have a lot of potential.
Q. Recently, you cut your beard for charity. Who first gave you the idea to do that? How long does it take DA BEARD to grow back?
A. I did just cut my beard for Children's Hospital of Pittsburgh, Pediatric Cancer. My wife and I came up with the idea after watching our close friends Aaron and Jamie Smith's son, Elijah battle Leukemia. I started growing this year's beard last March 2014 and shaved it February 4th 2015. Since starting Shear Da Beard, we have raised over $250,000.
Head over to the NFL Rush website to read the rest of the Q & A!
Thank you to Jake for the great questions! We think he has a future with the media!