From 7th rounder to starter
Posted On December 1, 2014
Brett's amazing journey with the Steelers has come to a halt… for now.
He injured his triceps yesterday in the game against the Saints, and was placed on the Reserve/Injured List today.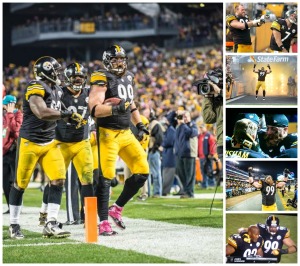 Brett is a rarity in the NFL these days. He has been with the same team for his entire 13 season career. His career began in 2002 as a 7th round draft pick. He became a special teams standout, and eventually worked his way to a starting position at defensive end.
His contract was up after last season, any many felt his career was up also. It was down to the wire, but the Steelers made the great decision to bring #99 back home.
There is no place like home! I am very excited to finish what I started in 2002 with the Steelers. Time to get to work!!— Brett, after being signed back with the Steelers.
Keisel's return gave a lift to the Steelers defense. Through 11 games, Keisel was second among defensive linemen on the team with 19 tackles, he was second among the defensive linemen with 12 quarterback pressures, and he was third on the entire team with six passes defensed. In this, his 13th NFL season, Brett Keisel quickly out-played all expectations and was a significant contributor to the defense and also one of the team's unquestioned leaders. (Source: Steelers)
 Keisel also was mentoring the younger players, just as Aaron Smith had done for him years earlier.
Teammates discuss the loss of Keisel:
I've seen it happen with Aaron (former Steelers defensive end Aaron Smith). There's very few guys here left in the locker room that you've experienced a lot with ups and downs, and you know that you can carry through with them. We're definitely going to miss (Keisel) and his leadership." — Troy Polamalu
Much love and respect for Big Brother, Brett Keisel. Won't stop playing for my guy! #99Strong.  He means a lot to this team. We're going to have to rally behind a lot of other guys because you can't replace him. We have four games to show how much we care about him— Cam Heyward
He's a guy you can look up to and a guy that you know will fight to the end. He gave it everything he had. We want to fight for all individuals, not only ourselves, but a guy who represents the Steelers, and that's Brett Keisel. It's a tough loss, but we have to keep fighting and fight for him.– William Gay
Thank you for all the well wishes being sent for Brett. They are greatly appreciated. He is so fortunate to have the greatest fans in all of sports!
We will update you on his progress, as information is available.