Fan photos
Posted On September 21, 2014
We added some new fan photos to Brett's new Photo Gallery.
Thank you to all who sent photos….keep 'em coming!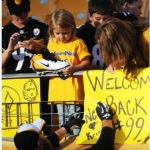 From Bobbi Fries:
"My daughter, Juliana, was thrilled that "her guy" came over to her. She is 4 and my husband and I brought the kids for their 1st visit to Heinz Field. It was also Juliana's first game.
My 13yr old, Jakob, was at last years game when Brett threw us the cleats. I'd say that both kids are awfully blessed to have such great memories of their first games. My son is next to Juliana. He was in awe of Brett! Please extend our thanks and admiration to Brett for continuing to be a stand up guy. "
Bobbi also commented that the cleats Brett is getting ready to sign are ones he gave to the family last season! Lucky family!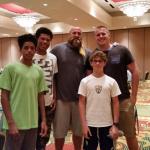 "Tonight was a great chapel service with the Steelers!  My son Jeremiah, his friend Vaughn, Mason Veal, Rubio just took photo with Brett Keisel after Steelers chapel." – Derwin L. Gray, Lead Pastor of Transformation Church. Author of Limitless Life (Thomas Nelson); Former NFL Player.
View more fan photos HERE.