"That's how you close out a game in the NFL"
Posted On November 18, 2014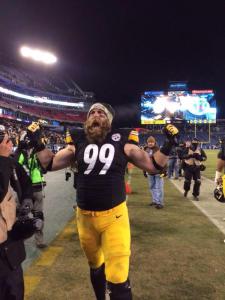 Steelers 27, Titans 24
Matt Bowen (@MattBowen41), NFL writer for Bleacher Report said it best: "That's how you close out a game in the NFL."
The Steelers defeated Tennessee and are now in 2nd place in the AFC North.
The game started with a great play on defense as William Gay intercepted Titans QB Zach Mettenberger and ran it back for a 29-yard touchdown.
The game ended on the great play of Big Ben and Le'Veon Bell who controlled the majority of the fourth quarter. Bell ended the game with 204 rushing yards.
From Lance Zierlein (@LanceZierlein), Radio host on Sports Talk 790 in Houston: "This is one of the most dominant "imposing of wills" I've ever seen. Ever".
Bell was selected as the Steelers Digest Player of the Week. Keisel, with two tackles and two batted passes, was also considered for Player of the Week honors.
From Steelers PR manager, Dom Rinelli:
Steelers DE Brett Keisel records 35th career pass break-up and ranks second among active NFL DE: Jared Allen 52 Brett Keisel 35 J.J. Watt 34.
Way to go 99!
Jon Gruden: "Brett Keisel chews up blocks!"
We will have MUCH more from the game tomorrow!