Steelers know they need to stack wins
Posted On October 6, 2014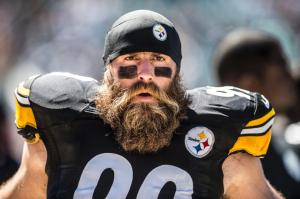 The players' theme in the locker room after defeating the Jaguars was 'stacking wins.'
From Mike Prisuta, Steelers.com:
After winning a game they seemingly had to have, the Steelers left EverBank Field convinced they'll need another victory this coming Sunday in Cleveland every bit as badly.
"As a team we have to stack 'em," nickel back Brice McCain maintained after his fourth-quarter pick-six helped the Steelers hold off the Jaguars, 17-9, on Sunday afternoon. "We can't go one game here, one game there, win, lose. We got to put them together.
"Next week we have another AFC North opponent. We have to put it together like we did this week, get another 'W.'"
"We don't need to lose and have urgency to play our best ball," Keisel insisted. "We have to win and have that same, exact urgency."
That seemed to be a common theme in the visitor's locker room on Sunday afternoon. Still, Keisel was asked if the majority of his teammates knew the importance of such an approach.
"I'll make sure they do," he said.
Defensive line earns a B:
It's the third game in a row the defense held the opponent to fewer than 65 yards rushing and the second game in a row the opponent averaged fewer than 4 yards per carry. But the Jaguars rushed only 15 times and one of those was a 20-yard run by Storm Johnson. DE Brett Keisel had a big batted pass on third down to get the Jaguars off the field on their final possession. Credit to the defense for making the big play on a day that could have turned out much worse. (Gerry Dulac, Pittsburgh Post Gazette).
Click HERE to watch some Sights & Sounds from the game.