"Nothing like that VICTORY feeling!"
Posted On October 5, 2014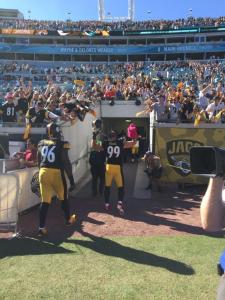 Brett thanks Steeler Nation for their support in Jacksonville! (Photo: Steelers).
"Nothing like that VICTORY feeling! Thank you Steeler Nation…ya'll took over AGAIN!"- Keisel, following the win over Jacksonville today.
The Steelers defeated the Jaguars by a score of 17-9. The defense was disruptive the entire game, causing two turnovers, with one being a pick 6!
From Coach Tomlin's post game press conference:
That is the appropriate response to present circumstance, to go out and get a winning performance. I liked the way we finished, especially when you consider that we didn't do a good job of it last week and it cost us the game. The defense went out and had a necessary stop in the latter part and created a turnover and put points on the board. It's good to see we get the ball there with a little more than four minutes left to go in the game and we are able to maintain possession of the football to end the game. That's appropriate. Pleased about the performance and hopefully we learned some lessons out there so we can be better the next time out.
Keisel had a great play late in the fourth quarter, batting Jags QB Blake Bortles' pass at the line of scrimmage.
From Jim Wexell:
Brett Keisel with the big play on third down. Defense coming up big vs. quality rookie QB.
We will post more news and photos later.