Monday Night Football
Posted On November 16, 2014
The Steelers will take on the Tennessee Titans on primetime Monday Night Football.
The Steelers defense will have the task of containing Titans rookie QB Zach Mettenberger.
From Scott Brown, ESPN.com:
Comparisons have been made between Pittsburgh Steelers quarterback Ben Roethlisberger and Tennessee Titans rookie signal-caller Zach Mettenberger because of their size and arm strength.
Titans wide receiver Nate Washington offered another parallel last week.
Washington, who played for the Steelers early in Roethlisberger's career, said Titans coach Ken Whisenhunt is just as hands on with Mettenberger as he was with Big Ben.
Whisenhunt was the Steelers' offensive from 2004-06, Roethlisberger's first three years in the NFL.
"He still holds Zach accountable just as he did Ben," Washington said of the Titans' first-year coach. "He teaches him relentlessly and harps on him about making sure he is technically sound with his drops, he makes sure he keeps the ball up and makes sure he is throwing the ball properly with his form. I constantly see him preaching to him about that as I did when Ben was growing up in this league."
Keisel on Mettenberger:
"He's got a strong arm and they're kind of simplifying things for him. The potential's there and Whisenhunt has had success with young quarterbacks. We have one in here that he did well with and they have a good feel for us and our schemes so it's going to be a challenge." 
Keisel and Harrison chat with WTAE's Sally Wiggin: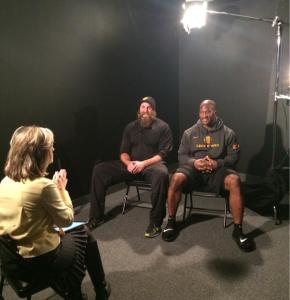 Watch a can't miss interview on Black & Gold Primetime on WTAE from 7:00 p.m. to 8:30 p.m. (ET) on November 17. For those outside of Pittsburgh, you can watch the interview via WTAE.com.
From Sally:
They were fabulous and made me laugh and cry!
Both Harrison and Keisel provide entertaining interviews, so you will not want to miss this one!