Keisel receives deserving honor
Posted On April 17, 2015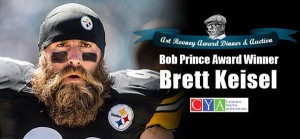 From Teresa Varley, Steelers.com: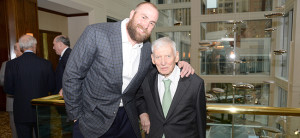 "Brett Keisel certainly was a great leader for us for many years. There's no doubt that Brett gave us everything that we could want in somebody that you would call a Steeler. He gave it everything he had. He was a leader of men on the field, he was a great player, impacted the games he played in, and then off the field he was the same way. He has had, and still has, a great impact on the community and showed by example what it means to be a Steeler in the community here."  – Steelers President Art Rooney II.
Art Rooney Sr. was always thinking of others. Whether it was his players 'The Chief' looked out for, or those in his North Side neighborhood, Rooney was always doing something to help.
So when he saw the Catholic Youth Association struggling financially back in the 1970s, he knew he needed to step in. It was one of his favorite charities, and he wasn't about to see their valuable services decline, or worse yet, vanish.
It was that desire that the Art Rooney Award Dinner & Auction blossomed from, an annual event that benefits the Catholic Youth Association (CYA).
The CYA is a true neighborhood community center, operating in five sites and providing social, educational and health-related programs. Among the programs are a summer residential camp for over 200 boys and girls ages 7-14; Meals on Wheels; health and wellness activities for seniors; transportation programs for the elderly; and an intergenerational program that brings seniors and pre-school children together to form a bond.
The annual dinner brings together Pittsburgh's leaders in business, education and sports to combine efforts and strength to help the CYA serve the most vulnerable in the community…children and the elderly. The dinner honors "Pittsburgh's Champions," those that have made a difference in the community and have a passion for Pittsburgh.
Former Steelers defensive end Brett Keisel was among the honorees at this year's dinner, held on Thursday night at the Westin Convention Center, receiving the Bob Prince Award. The award, named after the late Pittsburgh Pirates radio announcer, honors someone who embodies his enthusiasm for Pittsburgh sports.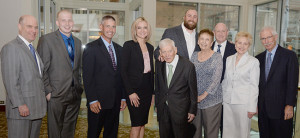 "Pittsburgh is special to me. I love the being a part of the community here, love being a part of what Pittsburgh is about. And everybody knows, Pittsburgh is about sports. I have always appreciated the support fans have given me, and I like to support all of the teams in the city. Pittsburgh will always be a part of me, and I will be a part of this great city." — Brett
Keisel, who received the honor from Dan Rooney Sr., was the Steelers seventh round draft pick in 2002 and spent 13 seasons with the team.
"Brett Keisel certainly was a great leader for us for many years," said Steelers President Art Rooney II. "There's no doubt that Brett gave us everything that we could want in somebody that you would call a Steeler. He gave it everything he had. He was a leader of men on the field, he was a great player, impacted the games he played in, and then off the field he was the same way. He has had, and still has, a great impact on the community and showed by example what it means to be a Steeler in the community here."