"I owe everything to Keis."
Posted On December 16, 2014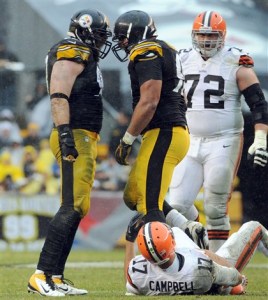 From Ron Cook, Pittsburgh Post -Gazette:
It is clear now why Steelers defensive end Cam Heyward was nearly in tears when teammate Brett Keisel went down and out for the season with a torn triceps Nov. 30 against the New Orleans Saints.
"He's my Obi-Wan Kenobi," Heyward was saying Sunday after the Steelers beat the Atlanta Falcons.
In case you're not a Star Wars fan, Kenobi was a legendary Jedi Master. He is famous for training Anakin Skywalker and mentoring Luke Skywalker.
As far as Heyward is concerned, making that comparison is the greatest compliment he can give Keisel.
"Even when I wasn't playing, Keis was teaching me and getting me ready," he said. "I sat next to him in the meeting room every day. I'm still sitting next to him. He's still teaching me."
It's a special relationship the two have, Keisel passing on the knowledge he has gained in 13 NFL seasons to Heyward — Ironhead's boy — who is becoming a star in his fourth year in the league.
"Becoming a star? He is a star," Keisel said.
They say a teacher's greatest reward isn't financial, but rather the joy that comes from seeing a student excel. So it is with Keisel when it comes to Heyward. Keisel watched him come into the NFL as the Steelers' No. 1 draft choice in 2011, thinking Heyward one day would take his job. He watched Heyward struggle to get on the field, not getting his first start until the fourth game the 2013 season, his third in the league. He heard the whispers that Heyward was a bust even if he couldn't believe what he was hearing.
"That was a joke," Keisel said. "Every one of us knew his potential. He is one of those special talents. It takes time in this system. It takes time to learn the technique. It takes time to even get comfortable in your stance. He's at that point now where he's comfortable. He's making plays. He's such a big reason we're 9-5."
"He wants to be great," Keisel said. "There's a price that comes with that. You've got to work for it. He's putting the work in."
Keisel continues to be a presence with the Steelers and will continue to push Heyward the rest of the season. If he's not back with the Steelers next season, Keisel will watch Heyward's production from afar.
"I'm so proud of him, the progress he's made, the player he's turned into," Keisel said. "The crazy thing is he's only going to get better. He's only going to get stronger. He's only going to get more powerful. It's going to be exciting to watch him."
It was time for the punch line.
"He had a really good teacher," Keisel said, grinning through all that hair on his face.
Keisel was kidding, of course.
Heyward was dead serious.
"I owe everything to Keis."
Read the entire article HERE.