Hangin' with Da Ladies of Steeler Nation
Posted On October 11, 2014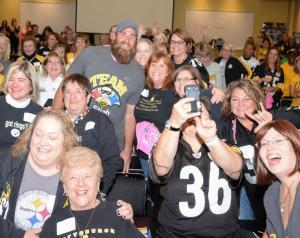 The women turned out in a big way for the Women's 202 event.
The Steelers held their annual Women's 202 event is at the Steelers practice facility. It features an X's and O's overview and autograph session with Steelers players.
Once the ladies are given the overview, they are then able to show their skills on the Indoor Practice Facility field. They were treated to dinner in the team cafeteria and were given an awesome gift bag with lots of Steelers goodies. The ladies also were able to tour the Steelers locker room. which is a favorite of fans.
Brett was excited and honored to be able to speak with the "Ladies of Steeler Nation" during the event, and the crowd felt the same judging buy the huge applause and standing ovation they gave #99.
"Let me tell you, that just feels outstanding. We, as Steelers.. we LOVE you ladies, man."– Brett, on the amazing greeting he received from the crowd.
Watch video of the warm greeting he received, and of the action from the 2014 Women's 202 event.
Also, Mackenzie Pack Pilar captured a great video of Brett addressing the ladies. Watch it HERE.
Brett talked about the tough group of kids fighting cancer at Children's Hospital and how he loves to visit with them. He spoke of his love for the Steelers:
"I love being a Steeler, I love being 99, I love going out and playing on Sunday with my guys.  I am gonna be in trouble when that day is gone and it's rapidly approaching. "
Thanks so much to Mackenzie for the video.
View photos from the fun event HERE and HERE.
The event was sponsored by Magee-Womens Hospital of UPMC.