Epic night for an epic beard
Posted On February 5, 2015
For a fifth straight year, we said good-bye to Da Beard and hello to Brett. It was an epic night for an epic beard last night at Jergel's Rhythm Grille.
Feels good to be cleaned up. I think I owe, at least my sweet, loving wonderful wife, to keep it down a little bit for a litle while. I'll be shocked lookin' at the guy in the mirror for a little while. — Brett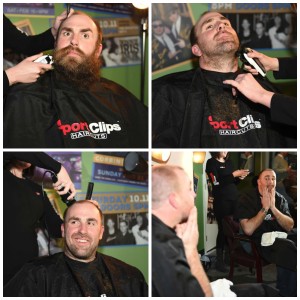 Steeler and Da Beard Nation turned out in full force to witness Brett's transformation from Mountain Man to Sharp Dressed Man.
Watch video of the transformation and of Brett's surprise at seeing his former teammates, James Farrior and Casey Hampton take the stage.
Brett's family, friends, teammates and coaches also showed up to support him.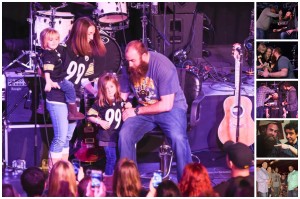 Thank you to ALL who attended the event and assisted with the event to benefit Children's Hospital of Pittsburgh UPMC. Thank you also to Jergel's Rhythm Grille for hosting Shear Da Beard and for the amazing food and drinks!
We also wish to thank the following sponsors for making Shear Da Beard possible: The Pittsburgh Steelers , SportClips, WDVE,  Children's Hospital UPMC, Eat'n Park, PNC, Gateway Financial, Don's Appliances, Hillmon Appliance .
If you would like to donate to Children's Hospital in honor of Da Beard, you may do so HERE.
View LOTS of photos from last night's epic event HERE.
More coverage HERE.