Eating right earns Orlando kid Super Bowl trip
Posted On January 9, 2015
And, Keisel gets to deliver the good news!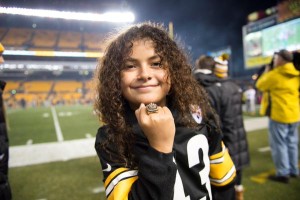 From David Whitley, Orlando Sentinel:
Eat your vegetables!
Bobby Sena didn't want to sound like an old goat, but that was his message to neighborhood kids who were turning into blobs.
"They weren't going outside," he said. "They were playing video games and eating at fast-food restaurants."
The kids got the message. It might have helped that it was delivered by an 8-year-old.
Sena is all of 12 now, and his crusade is taking him all the way to Super Bowl XLIX. The seventh-grader at Hunter's Creek Middle School will deliver the game ball to officials before the Feb. 1 NFL championship game in suburban Phoenix.
He got honor by winning the NFL Play 60 Super Kid contest, which is part of a program to fight childhood obesity. More than 2,000 kids submitted videos explaining why they should win.
"I nailed it," he said.
Confidence is not a problem here. How many 12-year-olds hand out business cards? This one is 112 pounds of charisma, conviction and hair.
Lots of hair.
"It works in my favor," Sena said.
He looks like a Mini-Me version of his favorite player, Troy Polamalu of the Pittsburgh Steelers. But he had the curly mane before he'd heard of the All-Pro safety.
"Troy saw my hair and said, 'I want to have that hair! That kid looks cool,'" Sena joked.
Sena's grandfather got him hooked on fruits and vegetables shortly after Sena was old enough to chew. A few years later, Sena noticed his friends didn't exactly share his fondness for arugula. That didn't bother him nearly as much as their growing taste for Nintendo and PlayStation.
As a finalist, he won a trip to last week's NFL playoff game in Pittsburgh. Proving he's no veggie snob, Sena enjoyed a Roethlisburger, a heart-stopping cheese, grilled-onion, egg and sausage hamburger named after Steelers quarterback Ben Roethlisberger.
On the sideline before the game, Steelers defensive end Brett Keisel told Sena he'd won the Super Kid contest.
"I almost cried," Sena said.
Sena researched ways to get them moving. He found NFL Play 60, an in-school program that promotes nutrition and staying active 60 minutes a day. He joined the club at school and eventually became a state ambassador.
Soon, it's off to Phoenix and a week of VIP treatment with his parents and 14-year-old sister, Topanga. This time, Sena's delivering the ball to the Super Bowl.
Read the entire article.
Watch his now-famous video HERE.
Congratulations to Bobby!