Brett Keisel's legacy goes beyond the football field
Posted On August 17, 2015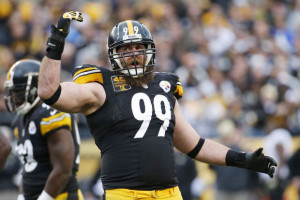 From Ross Jacobson, Casper Star-Tribune:
Brett Keisel's nose can tell when he's in Wyoming.
For the former Pittsburgh Steelers defensive end and Greybull alumnus, the place where he spent most of his childhood and started on his path to the NFL carries a distinct scent.
"It just has a fresh smell to it, one of my favorite things about that place," Keisel said. "It will always be home to me. I'm very proud of starting my career in Wyoming and it all started with those boys."
'Those boys' would eventually be Keisel's teammates for four years at Greybull. But before they helped the Buffaloes to one of the best seasons in school history, they were just young kids playing every sport imaginable whenever they had time.
"Video games weren't that popular then and they were just barely coming out or maybe just barely getting to Wyoming," Keisel said. "It was something we all did to get together and that relationship and that bond just continued throughout the remainder of our school years. We're all very close."
In 1996, 11 seniors went out for football at Greybull, something Keisel notes as his favorite memory. Greybull went 7-2 that year, losing to Lusk in the 1A-Division 1 semifinals. It was the first time the Buffaloes made the semifinals since 1989.
That year as a senior, Keisel, who was named to the 1996 Super 25, recorded one of the best offensive seasons in Wyoming high school history. His 1,092 receiving yards were the most ever in one season up until 2010. They now sit fourth all-time, according to wyoming-football.com
Michael McGuire, who played quarterback for Greybull and is now the head football coach at Big Horn, recalled one play Keisel made in high school after a significant hand injury forced him to wear a large cast.
"I threw him the ball and there was really good coverage on him, but he was still able to catch the ball with his cast hand and pin it against his helmet almost, broke a tackle and ran for a touchdown," he said. "He had a lot of moments like that, where he just kind of did something and I think everybody was like 'That's not stuff you see everyday.'"
But more than his healthy statistics and numerous accolades, Keisel is remembered by teammates for the intangibles and off-field attributes he showcased.
McGuire calls him "one of the best teammates I've ever seen."
"He was a great leader. He was one of those that everybody respected," said Jeff Hunt, a former running back for Greybull and now the girls basketball head coach at his alma mater. "He was fun. He was a friend with everyone. … We all enjoyed him. Just a fun-loving guy to be around."
After Greybull, Keisel played at BYU — with a brief stint at Snow College — before being drafted by the Steelers in the seventh round of the 2002 NFL Draft.
As Keisel's career — and beard — gained notoriety with Super Bowl titles in 2006 and 2009 along with a Pro Bowl selection in 2010, Hunt was able to see Keisel play several times in Pittsburgh and Denver.
Almost 20 years since their Greybull careers ended, McGuire and Hunt both said Keisel hasn't changed a bit.
"It's not all about football, it's his charity and community. That's his biggest legacy, what he's given back to that community," Hunt said. "It's been pretty impressive to see what a small-town kid could do."
The Steelers released Keisel in March, four months after his season ended prematurely with a torn triceps. But even at age 36, Keisel isn't ready to retire just yet. He spent the summer rehabbing and hopes to get back to where he was before the injury. Then he'll make a decision and "let the chips fall where they may."
Earlier this month, Keisel traveled to Canton, Ohio, for former Steelers running back Jerome Bettis' Hall of Fame induction. He compared it a family reunion, seeing people who were not only teammates, but friends.
And the same can be said for any time those boys from Greybull get together.
"The relationships that we formed together and the bond we created competing is really what generated me into wanting to do this," Keisel said. "That place will always be special to me and I'm grateful to call myself a Wyoming guy."
Thank you to WyoVarsity, Casper Star-Tribune for the great article!