Brett Keisel has no regrets
Posted On October 17, 2014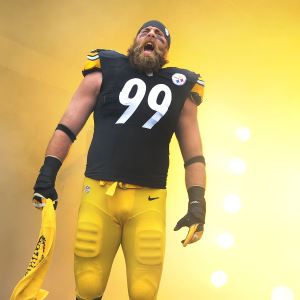 From Ron Cook, Pittsburgh Post Gazette:
The best feeling in sports is winning. There is nothing like it. The second-best feeling in sports is the losing. Just being in a stadium with teammates is a blessing, a high that those of us on the outside never will experience. The competition is intoxicating. It is addictive.
Long-time Steelers defensive end Brett Keisel is here this morning to explain it to you.
"The feeling I get in my stomach coming out through the tunnel on game day is indescribable. I won't be able to get that after I'm done playing. You can't get that anywhere else. It's impossible."
That explains why Keisel — a proud man and proud player — said he has no regrets about coming back to play for one of the worst defenses in recent Steelers history. It has to be tough on him to be a part of a unit that is hemorrhaging yards and touchdowns. He was such a key contributor to some of the best defenses in recent franchise history. But Keisel still went to work with a smile Monday at the team's South Side headquarters, fewer than 24 hours after the defense played a big part in sabotaging the team's chances in Cleveland against the Browns. As it has done so often this season and last, it gave up one big play after another in a depressing 31-10 loss that left the Steelers in last place in the AFC North Division with a 3-3 record. Can you say mediocre?
"I still love to play," Keisel said. "I'm never going to lose that fire in my body, that will to win. It's special to be able to still do it at 36. A lot of guys wish they still were playing."
Keisel was right when he said, "I'm probably not as good as I used to be." Of course, he isn't. He is hardly alone on the Steelers defense. Troy Polamalu isn't the same player. James Harrison isn't the same player. Even the best get old and fade.
But, other than Cam Heyward, Keisel has been the Steelers best defensive lineman. He leads the team with 11 quarterback hurries. He looked 26 when he chased down Browns tight end Jordan Cameron after a 42-yard gain, although it's never a good thing when a defensive end makes a tackle that far down the field. Keisel had to leave the game late with a knee sprain but said he expects to play Monday night at home against the Houston Texans.
Keisel also is a calming influence in the locker room. That might not be enough to prevent the big plays, but he promised to do his part to get the defense back on track.
"I'm not going to scream and yell. That's not going to do any good," Keisel said. "I'm going to continue to encourage guys. I'm going to encourage them to continue to work and prepare to be the best team we can be. I think we're a much better team than what we displayed [in Cleveland]."
Keisel insisted defensive coordinator Dick LeBeau still is the right man to figure it all out and find a solution. He insisted LeBeau, 77, hasn't lost his fastball.
"Every man in that defensive meeting room is lucky to have a guy like him step in front of us. I will never take that for granted …
"It doesn't matter if the other team knows what we're doing, anyway. As long as we execute, we're going to be fine. Coach LeBeau can only do so much. After that, it's up to us as players."
Read Mr. Cook's entire article HERE.